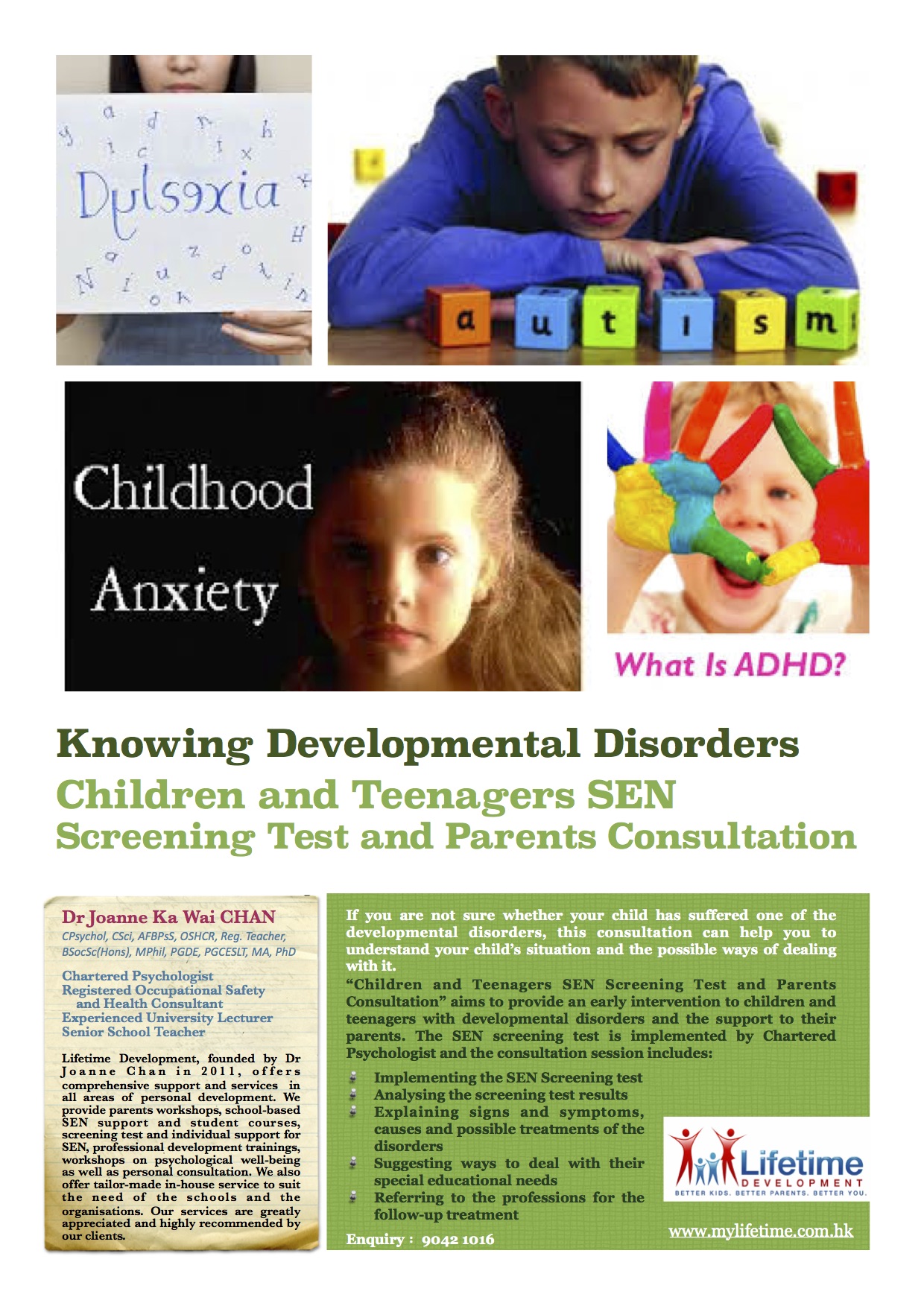 Childhood disorders or developmental disorders, most often occur and are diagnosed when the child's of school-age. According to Department of Health, Hong Kong, there are basically ten types of developmental disorders.
Hearing Impairment
Visual Impairment
Cerebral Palsy
Autistic Spectrum Disorders
Dyslexia
Mental Retardation & Developmental Delay
Language Delay
Attention Deficit Hyperactivity Disorder
Development Co-ordination Disorder
Anxiety Disorder
Other than Cerebral Palsy, Development Co-ordination Disorder and Anxiety Disorder, all the other types are also identified as Special Educational Needs (SEN) by Education Bureau, Hong Kong.
When parents detect anomalies in their children's development, basically there are three stages of seeking professional assistance.
Screening Test

– It is an initial test by using the screening tools and rating scales to help measure if a child has signs of any developmental disorders.

Formal Assessment

– It is a further in-depth and all-rounded assessment on the developmental disorders after the initial screening test.

Treatment

– The medical and psychological treatment and the individualised education plan will be planned to help children to cope with their disorders.
It is important for parents whose children suffer from one or more developmental disorders to seek professional assistance, understand their difficulties and approach their problems in a positive way.
For further reading, please visit the following links:
What is Special Educational Needs (SEN)? The case in Hong Kong
http://www.mylifetime.com.hk/2017/08/29/what-is-special-educational-needs-sen-the-case-in-hong-kong/
SEN Support Services and Screening Test
http://www.mylifetime.com.hk/our-services-support-services-for-sen__trashed/
Written by:
Dr Joanne Ka Wai Chan
Founder, Lifetime Development
Chartered Psychologist, Registered Occupational Safety and Health Consultant, University Lecturer and Experienced School Senior Teacher
Reference: http://www.dhcas.gov.hk/english/health_pro/develop_dis.html